Private
---

GIS & Mapping
Remote Sensing
Columbia River Estuarine Turbidity Maxima
Elliott Bay
PRISM Science Retreat
PRISM Seminar Series, Fall 2002
Seismology & Geodynamics
Spatial Analysis Laboratory
---
Questions or
comments:
webmaster
---
Updated:
2003-12-18

SPURS-EM PRODUCT and ANALYSIS TEAM:
Strategic and Practical Use of Remotely Sensed Data in Emergency Management
SPURS-EM is focusing on developmental and operational integration for the continuous use of an adaptive classified land cover product and the monthly generation of hazard specific forecasts in Emergency Management. This site support the work of the SPURS-EM product team at the University of Washington. For more information, please visit SPURS-EM PROJECT.
The project is a collabrative program between
Catalog Selections:

SeaWiFS 1999 Composite Clouds

Earthquakes

ARCH - Coastal Risks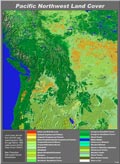 Pacific Northwest Land Cover